My Story
Being of both Italian and French nationality, I grew up in two countries overflowing with beauty. Two cultures able to generate uncommon talents thanks to an innate taste for elegance and style.
As a child I used to wander through the corridors and rooms of museums, castles and palaces. I spent hours observing the materials, craftsmanship, colors and lights. I will never forget my long walks down the streets of Paris, Milan and Verona, cities that have stimulated my curiosity about architecture, design, décor and obviously, fashion.
Just freshly graduated, I decided to create my own leather-goods brand. I started off with small accessories, such as wallets, belts and evening clutches. Customers were free to order specific colors or customize their purchase with hand-painted decorations. It was a lot fun.
After this experience, I decided I was ready to take the plunge and design handbags. This had always been my aspiration right from the start, but I needed to find the right elegant shapes, inventing more comfortable interiors and, most importantly, achieving the best possible quality to ensure that my handbags would last a lifetime.
So here I am today, fully immersed in this fantastic adventure. Pushed by the desire to create accessories that make women happy and allow them to dream.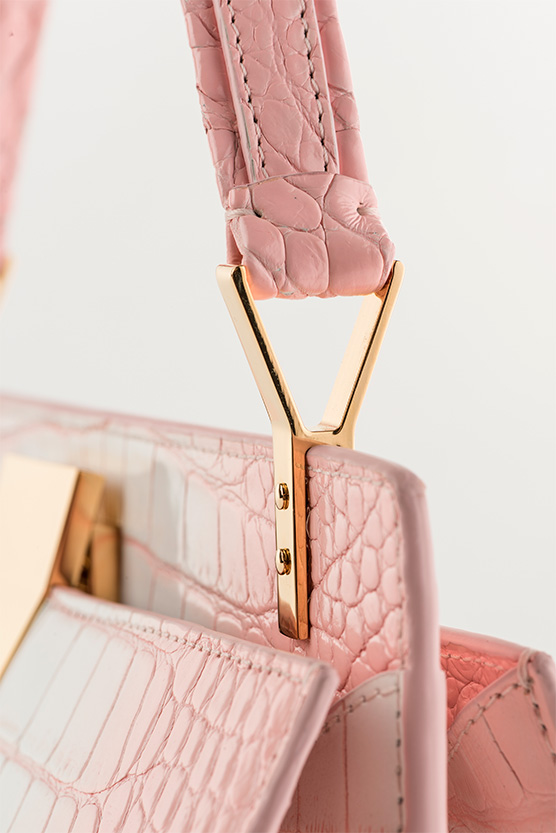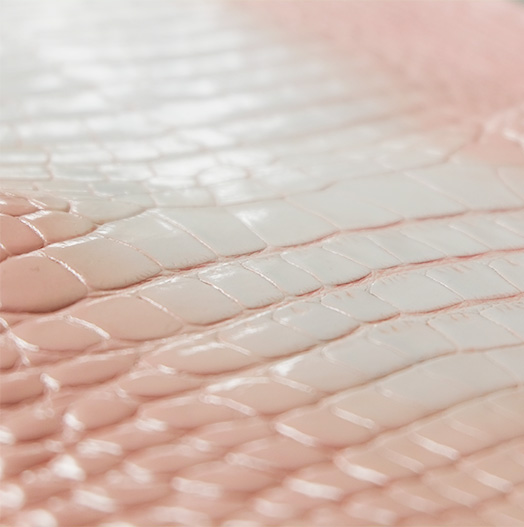 Free the colors!
I love to paint handbags. Individually or combined colors have the power to express a balance of harmonies.
The search for color entails an intellectual and aesthetic process. I trust my eyes, but I also take inspiration from my customers' personalities, so they can recognize themselves in their handbags. After all, they will spend a long time together. Therefore this relationship has to work!
I carry out never-ending trials, but I can't stop. I love it so much!
I could easily make my choices from existing colors, but that would cramp my style! Therefore I search for new nuances and combinations, impatient to find the ones I think will best exalt one or the other.
One handbag, one world
It seems an easy job. I snap my fingers and there I have the handbag of my dreams, right in front of me. If the truth be told, it is not a magic trick. I spend days deciding on the most appealing shape, the most comfortable interiors, the safest clasp-closure, and the most attractive shades. I make numerous sketches and rip up infinite sheets of paper.
Suddenly everything becomes clear in my mind. I hurry to the workshops to make sure my idea is feasible. The show is about to begin. I witness the color tests. I double-check the paper patterns and I control the proportions of the first prototypes. What is the final result? A handbag with seventy different parts consisting of crocodile leathers, linings and metal accessories. Depending on the customer's requests, each handbag may take up to five days to be completed.
Finally the delivery date arrives. I feel nervous. Has my imagination - so carefree and boundless on paper - been able to take shape in real life? Every time I behold a finished handbag on the workbench, I go back all over the steps that have led up to its creation. I patiently check even the tiniest details. Great, everything has been perfectly accomplished! Ship immediately the bag to its owner!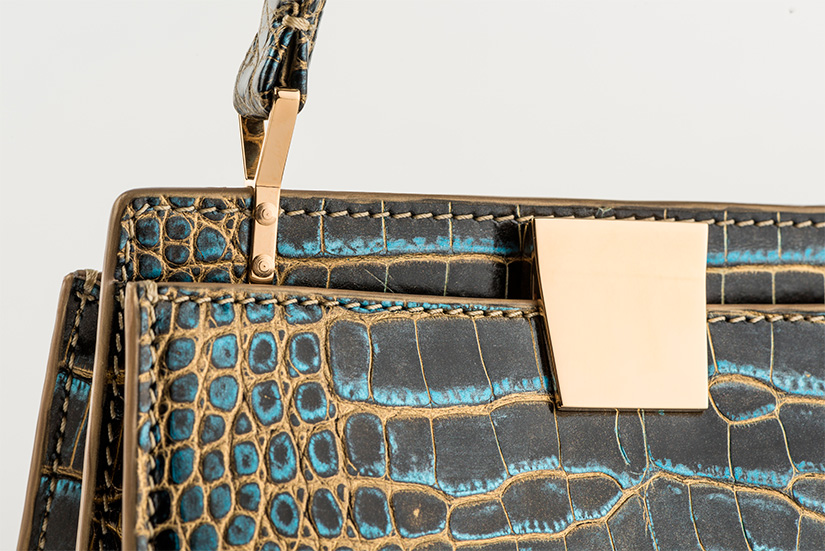 The craftsmen who make dreams come true
Fifteen people are involved in the making of a handbag, from its design to the final polish, just before being wrapped in its box. These talented craftsmen are happy to share their long-lasting experience with me. They are willing to show me the hidden details of their work, such as the proper filling for a comfortable shoulder strap.
I am always fascinated to see how naturally the craftsmen interpret my sketches and create the bag I have in mind. From the moment the leathers are spread out on the workbench, the meticulous hands of these craftsmen give life to a choreography of scissors, punches, brushes, needles and thread. This incredible performance is possible thanks to the love these people have for their noble craft. Up until the final act: the birth of the handbag.
A tradition of excellence that thrives on the love that these masters put into their work. If each handbag is unique, it is also because it will carry a bit of their soul, a piece of their heart, forever. I will always be grateful to them for the energy they put into making my dreams come true.
The handbag's jewels
Luxury stands on details. All parts of the handbag are crafted with the highest level of care. In this spirit, the bag's accessories are treated like real jewels.
At the beginning long hours are dedicated to search stylistic and artistic inspirations. Meanwhile, the creative idea must be tested several times. My final goal is to bring aesthetic harmoniously together with functionality. So it is a scrupulous work, from the first sketch to the final prototype.
I put under the lens the final product. I do not feel relieved until I am sure that the lock has the right resistance and security. Only at that moment the handbag becomes the faithful guardian of its owner's intimate universe.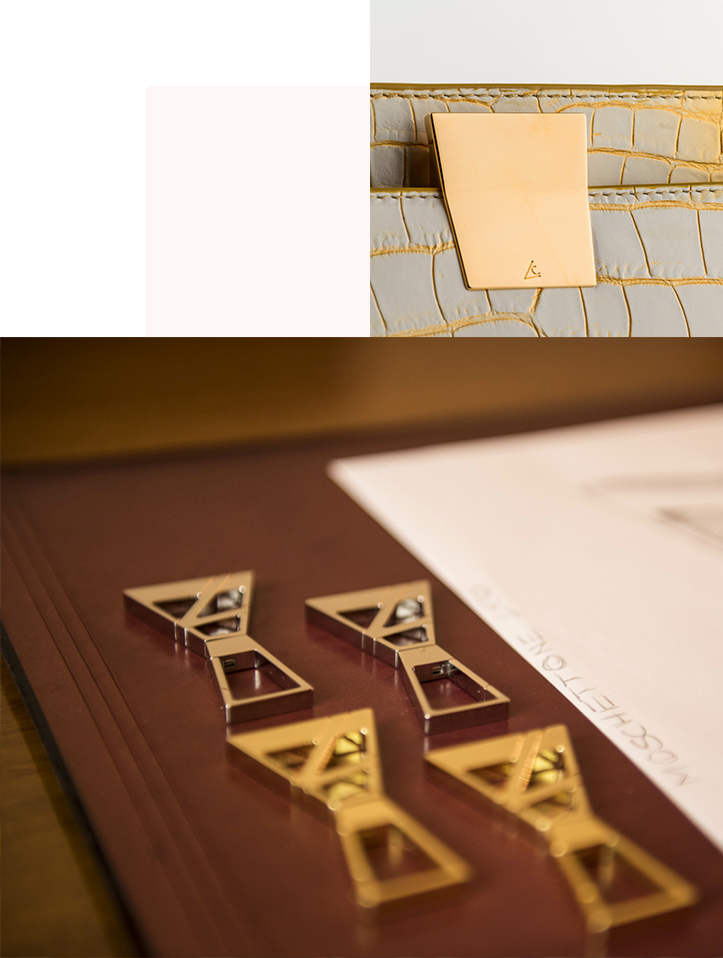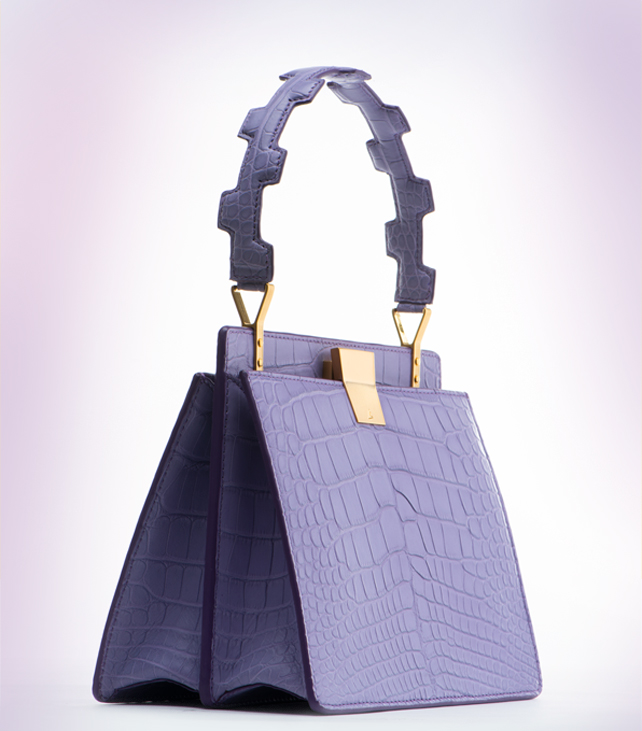 Ordini Speciali
Ordini Speciali by Leo Camerini, is a collection of creations that escapes from any paradigm of style and season. The only rule is to imagine.
It is a fun and rich experience that Leo Camerini shares with the client. From that moment on she will receive an unrepeatable work of art only she will carry.
request information